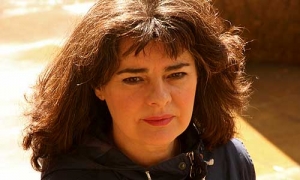 I' 'm born, raised and educated in Hamburg, Germany.
My parents are spanish.
I finished banking in 1983 at the Vereins – und Westbank in Hamburg.
I decided to become a Make up Artist, and became a medical beautician first, aswell as a Make up Artist. and worked for 17 years as a professionel  Make up Artist for photography, film and theatre productions and events .
1993 i got admission in the Art Academy in Hamburg for Fine Art and completed the studies in 2000 with  the Fine Art diploma in conceptual art with Prof. Bernhard Johannes Blume and Prof. Stefan Schmidt Wulffen.
i retrained in alternative therapies,  like ayurveda, reflexology, Jin Shin Jyutsu, Face rejuvenation Massage and currently a mexican aztec Healing Method.
since 2002 i m living and working mainly in London and Hamburg. created a Centre for alternative therapies, Health in the City in the City of London.
I'm  continuing with my conceptual art projects